1947
At the age of four I made my first public appearance at The Metropolitan Theatre Edgware Road London singing California Here I Come.

1947 - 1956
I appeared regularly with my Mother's theatre school in shows across London. I was a 'speciality' act on the same bill as Sid Fields, Max Miller , Tessie O'Shea and Leon Cortez. At 13 I persuaded my Mother to buy me my first guitar and realising that Jim Dale and the rest on 6 Five Special were not for me, I discovered the likes of Carl Perkins and Ronnie Hawkins. It was the dawn of Rock and Roll.

1956 - 1959
I met Buddy Holly at the Gaumont State, Kilburn. He encouraged me and signed my proramme, still in my possession.

I was 'spotted' by the secretary of the Official Elvis Presley Fan Club at the Met and made the first honorary member. I sang Jailhouse Rock at the premier of the film at the Odeon Leicester Square which not surprisingly did little to further my career !In 1958 I auditioned for Jack Good's show Oh Boy! Jack told me to come back when my voice had broken completely but at the rehearsal room Eddie Cochran gave me some encouragement perhaps because I sang 20 Flight Rock for the audition.

1960 - 1964
I made my first demo at Regent Sound Charing Cross Road in 1960 and after sending it off to a few record companies, I auditioned for EMI at Studio 2 Abbey Road. Ron White was in charge with Bob Barratt in attendance. I failed the audition and did what most struggling musicians did in those days......I went into insurance. I hated every moment but help was at hand. My Mother wrote off to an advertisement in the Stage for a singer/guitarist for an established group without telling me. When she received a reply she told me and I dutifully turned up at Quaglino's ( the original! ) in February 1962. I had no idea what I was auditioning for and sang Mess Of Blues. I was even more confused when a disembodied voice asked me if I could sing a song in a foreign language. How could this be rock and roll ? Of course it wasn't but it turned out to be The Springfields and I was the one Tom and Dusty chose to replace Tim Field and within two months we had the first ever Top 10 record by a British vocal group in the USA with Silver Threads and Golden Needles and we were in Nashville recording an album with the likes of Floyd Cramer and Jerry Reed as back up musicians.Island Of Dreams went top 5 all around the World and we won Best British vocal group award in 62 and 63 from the NME. As The Beatles went from the bottom of our bill to the top, we knew the writing was on the wall and decided to split in October 1963. Our last appearance was on Sunday Night At The London Palladium and we were presented with awards by Bruce Forsyth live on TV.

2
1964 - 1970
I recorded as a solo artist for Philips Records for two years. I also formed my own group The Methods with Jimmy Page, then Albert Lee on guitar and Tony Ashton on keyboards. We were playing country rock six years before Elton John and thus were doomed to failure!
In 1964 I also presented the first teenage radio chat show on BBC Light Programme called Teen Scene. I interviewed all the stars of the swinging 60's from top models to the first ever live interview in the UK with Bob Dylan. The Everley Brothers had broken up, and I performed with Phil Everley that year, at the Pickwick Club, London, singing Don's part.
By now I had become a record producer and I subsequently cut some tracks for Andrew Oldham ( Tony Rivers and The Castaways ) and Mickie Most ( covers of American hits ). I then worked for a mad American con man who told all and sundry he had produced the Beachboys. I found two artists for his company, Marc Bolan and Cat Stevens. I recorded Marc at Decca cutting The Wizard at Studio 2. The American thought Cat was awful which persuaded me to leave his employ and go out alone. I took a record I had made with Cat to Decca launched their new label Deram with I Love My Dog and married Marjorie.
Hits that followed included Matthew & Son, I'm Gonna Get Me A Gun, Mighty Quinn (Manfred Mann), Curly (The Move), Time Seller (Spencer Davies ) , She's Not There (Colin Blunstone), Moanin' (Chris Farlowe), First Cut Is The Deepest ( PP Arnold ), Rose Garden and Tom Tom Turnaraound (New World).

In 1970 I recorded two albums of my own songs for the Capitol label with such luminaries as Nigel Olssen, Ray Cooper and Dee Murray (Elton's band) , Ian Paice and Rod Argent guesting on various tracks.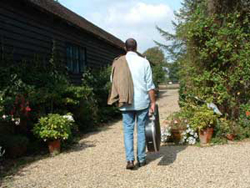 1971 - 1979
Toured Europe in 1971 talentspotting for Polygram International . In 1973 I launched a new production company Solid Gold. My first hit was Wild Thing by Fancy which went top 10 in the USA as did the follow up Touch Me ( my own composition). I then signed the band Showaddywaddy and placed them with Dick Leahy at Bell. I subsequently produced 17 top 40 hits in a row with the band. During the 70's I also produced albums with an amazing array of differing talent like Cilla Black, Mud, Merton Parkas, The Four Tops, Hello, Shakin' Stevens and many more.

In 1978 I took over the management of Shakin' Stevens while he was in the Elvis show in London. I negotiated a deal for him with Epic Records and produced his first ever hit Hot Dog. I also discovered Bruce Wooley who co-wrote Video Killed The Radio Star which is jointly published by Carlin and myself.



1980 - 1985




My Mother died in 1981 and I took over running her children's theatre group in Henley. Shaky and I parted company that year and in 1982 I formed a group with Mary Hopkin and Mike Alburquerque (ex ELO ) called Sundance. We toured with Doctor Hook playing Wembley Arena along the way. We then toured with Bucks Fizz. I also recorded my 8 yr old son Jonas and had a hit in France with Splish Splash. In 1984 I became head of Lamborghini Records which was only memorable for discovering Samantha Fox !!

In 1985 I moved with my family to Devon and started a children's theatre group there writing and producing two original shows each year.


3
1986 - 2007
In 1987 I started a regular afternoon radio show on BBC Radio Devon and a Saturday series called Goldmine on BBC South and West. I also guest presented Sounds Of The Sixties on Radio 2 and my own series That Was A Very Good Year on the same station.
My family was now running a summer camp for children at our Devon house at which I ran music and drama sessions.

In 1993 I wrote and presented a three part history of Decca Records for BBC Radio 2 which was nominated for a Sony Award. Throughout this time I was also a regular contributor to BBC Radio 2's Reading Music.

In 1994 I began a lecture series which covered every major public school in the country. Called The Music Makers it is the story of 450 years of popular music and how all the strands knit together. To date 300 schools have received the lecture and continue to do so annually.

In 1997 I formed Music Legends to write and produce biographies of some of the biggest stars for CD and cassette release. Projects were completed on Tina Turner, Iron Maiden, Jethro Tull, Deep Purple, Hot Chocolate, Two Tone and Shirley Bassey.

In 1998 I was presented with a Gold Badge Award by the British Academy of Songwriters and Composers for a lifetime achievement in the Music Business. .

In 1999 Mike and his family entered the Guiness Book Of World Records for a stage production with the largest number of family members in the cast. A record held by the Redgrave family since 1906!! Mike fielded 23 children, grandchildren and in-laws.

I produced Brit Award winners Belle & Sebastian in 2002.

Mike Hurst's Rockmasters was launched in 2006, and is one of the first residential rock schools in the country. Now? A new venture…….RU Ready 2Rock, for 'grown-up' kids.